Non-stick, corrosion resistant, wear protective: How do you make sure you get the best result?
Engineering and manufacturing something for a car, plane, train, computer, power plant and countless other applications is tough. Engineering and manufacturing something that is really good is even tougher.
At Surface Technology we can't guarantee that your end result will be a really good product but we can guarantee that whatever you're making, the surface characteristics will be the very best they can be.
For us, achieving the very best material performance means first and foremost understanding what the end component our customers are making will be used for, the environment it will be used in, and the performance demands that will be placed on it.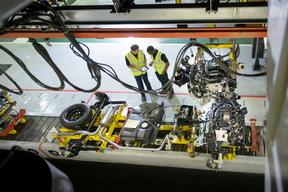 Using our surface treatment know-how we are then able to come to a conclusion on the very best coating or plating solution. 
The best solution does not just mean recommending and providing a process like PTFE, phosphating or electroless nickel plating. It means identifying the best application method plus any pre or post-treatment that will help enhance performance. It also doesn't necessarily mean recommending an off-the-shelf solution. We have the in-house technical capability to shape coating and plating processes to better meet the demands of a product and can work with manufacturers to ensure the end solution meets specification and approval criteria. Getting the optimum process chemistry and application is all part of the service.
How to get the best material performance results
– Environment: Consider the type of corrosion, temperature range, pressure levels, exposure to wear, type or abrasion, friction propensity and scope for lubricants
– Performance: Frequency of use, exposure to environmental challenges, maintenance schedule, required part longevity, electrical conductivity requirement
– Substrate: Tolerance to heat, coating adhesion, post and pre treatment process compatibility
– End use: Manufacturer specifications, legislative requirements for food-safe and medical applications
There are thousands of potential options available when looking to enhance the performance of material surfaces but at Surface Technology we have the proven knowledge and services to make sure you get the best end result.
Whether you already manufacture parts that are using coating and plating processes or are developing something new, contact us now to discuss your requirements and enhance your supply-chain with our unrivalled surface engineering services and support.
Like to find out more about how we help our customers select the optimum coating and plating processes? Download our white papers, here: http://www.surfacetechnology.co.uk/white-papers/
Register below for our monthly email and stay up-to-date with the latest surface engineering white papers, case studies and innovation news.