Anti-friction Reinforced PTFE Coatings
Armourcote® is the ultimate coating for applications requiring exceptional non-stick, abrasion resistance and low friction co-efficient properties.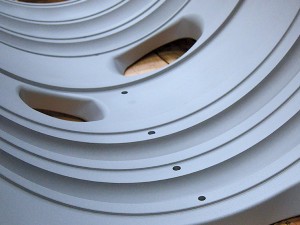 A result of our ongoing research and development, Armourcote® composite coatings overcome the basic limitations of softness which are inherent in traditional fluoropolymer and fluorocarbon systems whilst retaining all the required properties of the polymers.
Key Properties of Armourcote®

Typical Applications

Surface release (non-stick)
Excellent abrasion resistance
Low co-efficient of friction

Mixing bowls and vessels
Vibratory conveyer systems
Dough hoppers and moulders
Paper dying cylinders
Textile dye troughs
Armourcote® 1000 Series
Armourcote® 1000 series reinforces the polymer coating with a flame spray metal reinforcement matrix pre-treatment system. The benefits of this system are improved wear resistance and lower friction, leading to improved abrasion resistance. Loads are taken up by the reinforcement peaks and any wear and abrasion that occurs exposes more of the fluoropolymer coatings. The peaks of reinforcement are continuously smeared with the coating which results in a smooth wear and abrasion resistant, low friction finish. Controlled surface roughness, which provides improved surface release, is another benefit of the reinforcement matrix.