Your opinion matters
It's that time of year again; BBQs are being dusted down, Wimbledon is round the corner and it's the annual Surface Technology customer satisfaction survey.
To many, a survey represents another wasted 10 minutes spent ticking boxes and typing out your thoughts only to not see or hear anything of what you've suggested again – or just another box ticking exercise to try and win an iPad.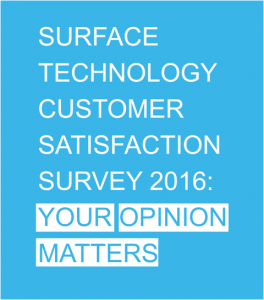 We're not offering one lucky winner an iPad, or any other prize for that matter – no indiscriminate box ticking just honest opinions sought – but rest assured your opinion really does matter and it will help shape Surface Technology for the better.
Don't just take our word for it, here are some of the things we changed, improved and continued because of the feedback we received in last year's survey:
Integration of new technology to enhance production processes
Run industry specific seminars to focus on surface engineering best practice and share case studies on new methods of doing things better
Enhanced communications with dedicated customers service teams at locations in East Kilbride and Leeds
Greater visibility of production timings and schedule for customers
Improved packaging of post production work
Continue to take a collaborative approach and offer our technical expertise earlier in the design and engineering process
Since last year we have won supplier awards and improved both delivery reliability and production turnarounds, we have also hosted a surface engineering seminar in Aberdeen and plan to run further seminar events in the second half of 2016.
Our customers are central to all that we do at Surface Technology and we remain focussed on continuously improving all aspects of the service we deliver. 
Listening and acting on feedback from customers, both large and small, is essential to help us deliver continuous improvement. You can be assured that if you do spend your valuable time filling in this year's customer satisfaction survey your thoughts will help us improve where we need to, invest in areas that will help you and make sure we continue doing more of what you value.
Click here to take part in the 2016 customer satisfaction survey.
Register below for our monthly email and stay up-to-date with the latest surface engineering white papers, case studies and innovation news.