The top 5 greatest engineering innovations of 2016
2016 will go down as the year of the unpredictable; from Brexit to Trump, Leicester City to the Chicago Cubs, it seems a month hasn't passed without something unexpected happening.
One thing that has remained however is the pace at which engineers continue to push boundaries and create more efficient, bigger, better, stronger, and faster innovations.
At Surface Technology we work with engineers, designers and manufacturers every day to provide surface engineering technical support and services, and so we naturally have an appreciation for all things science, technology, engineering and mathematics.  
So, here's our top 5 greatest engineering innovations and developments of 2016
1. Alptransit Gotthard Base Tunnel: In 1999 the first piece of 31 million tonnes of Alpine rock was chipped off to make way for the world's longest and deepest traffic tunnel; the dual-track Gotthard Base Tunnel.A gargantuan engineering challenge, the Alpine tunnel, which opened in June 2016, stretches 35 miles through the Alps and runs 1.5 miles below the snow-capped peaks.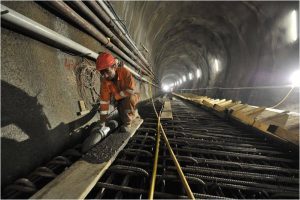 Bypassing the Gotthard Railway, which has wound its way round the Alps since 1882, the new tunnel has sped up the journey from Zurich to Milan by more than 40 minutes. The new route also opens up rail as a viable alternative for freight transportation and is expected to have a significant impact on reducing air pollution.Through the precision of boring machines with 29.5-foot heads, engineers were able to carve the route through the mountains and recycle an astonishing 60 per cent of the 31 million tonnes of excavated rock into the tunnel's lining.
2. ThyssenKrupp Multi Elevator: Elevators that simply go up and down are so 2015. Whilst many of the elements integral to construction have continued to evolve and so expand the design possibilities for architects, the concept of elevators has remained relatively unchanged since they were first introduced in 1854.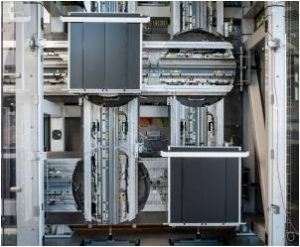 With buildings getting taller, the importance of elevators is only set to increase but the footprint of elevator shafts, and the size and length constraints of the steel cables that carry them up and down have long been a limiting factor in building design.With the introduction of the innovative new MULTI – the world's first cable-free elevator, German engineering Group, Thyssenkrupp have set the elevator free from simply going up and down and opened up the possibility of traversing buildings horizontally as well as vertically. Thyssenkrupp's engineers have made this possible through their development of a new track system which is embedded with powerful magnets. MULTI is still being tested but once available will allow for taller, wider and more creatively designed towers.
3. Tesla Autopilot: Self-driving cars are no longer a thing of the distant future and sci-fi films but are actually here, now. Since their first Model S rolled off the production line in 2012, Tesla has always had designs on self-driving vehicles. Following a 2016 update to the onboard supercomputer software, Tesla Model S, X and every Model 3 (once released), will be equipped with full self-driving capability.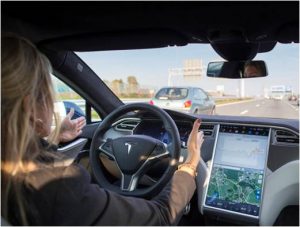 Through swathes of user generated data, 8 cameras – 3 front-facing, ultrasonic sensors and a powerful onboard computer, Tesla is leading the way in self-driving technology. Other automotive manufacturers, including General Motors, BMW and Mercedes are all working on their own version of the technology, as are a number of other innovative companies, including Coventry-based RDM Group's autonomous vehicle project.
4. Transit Elevated Bus: China's traffic-straddling bus looks like something from a futuristic metropolis but the transit elevated bus (TEB) is real and its first trial run happened in August. At 2m high, 72ft long and 25ft wide, the TEB is capable of carrying up to 300 passengers whilst traffic is capable of running below.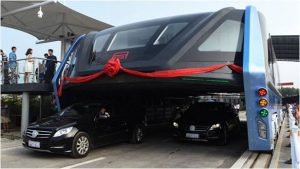 With accelerating urbanisation it is expected that 70% of the global population will be living in cities by the end of the century. Such population density requires new, innovative engineering solutions to stop cities becoming gridlocked and the TEB is one such possible solution. With the capacity to replace 40 buses and a cost to construct that's more than 5x less than a subway, it certainly stacks up in more ways than one.No further information has emerged since the inaugural test but we wouldn't be surprised to see TEB tracks starting to be laid in one of China's rapidly growing provinces soon.
5. Advanced LIGO – our ear to the Universe:  LIGO, or as it's otherwise known; Laser Interferometer Gravitational-Wave Observatory, is an advanced astronomical tool which detects gravitational waves.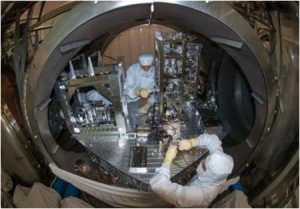 The advanced technology began collecting data in 2002 and has since detected ripples in spacetime which originate from the big bang. In 2016 a significant upgrade was made to LIGO and it's already detected a second gravitational event at a distance of 1.4 billion light years. Improved LIGO observation will enable scientists to plot the history of the Universe and spot events like supernovas.
To discover more about the services we provide and to discuss your requirements further, contact us now.
Register below for our monthly email and stay up-to-date with the latest surface engineering white papers, case studies and innovation news.