Why it's time to REACH for HVOF as your hard chrome replacement
Hard chrome plating is a proven method of improving the durability, wear, hardness and anti-corrosion characteristics of metal and alloy substrates. It is a process that is used to plate anything from hydraulic piston rods to motorcycle forks, and gear shafts.
However, the process of hard chrome plating is highly toxic and produces carcinogenic hexavolent chrome, a substance which requires specialist disposal and is the subject of the European Union's ongoing Registration, Evaluation, Authorisation and Restriction of Chemicals (REACH) directive to restrict the process.
REACH has been on the radar of Surface Technology since 2006 and we have worked with many manufacturers to provide alternative coating and plating services since but hard chrome continues to be used and finding a suitable alternative can be a challenge for some applications.
REACH for High Velocity Oxy Fuel (HVOF) Thermal Spray
Both HVOF thermal spray and hard chrome plating produce a continuous surface over a substrate with the ability to vary the density of the coating and both provide enhanced protection against corrosion, wear and fatigue.
Superior Corrosion Resistance
Hard chrome plating however contains micro-cracks within its structure which forms a weakness against corrosion versus thermal spray, as shown in the picture below.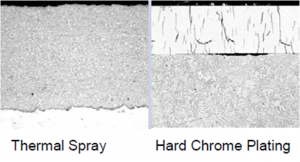 The corrosion protection offered by HVOF versus hard chrome is clear in the salt spray test image. During an ASTM salt spray test, HVOF (WcCo) was compared to chrome plating during an 18 month atmospheric exposure test where the samples were sprayed weekly with salt water. The resulting surfaces show the superior resistance to corrosion provided by HVOF.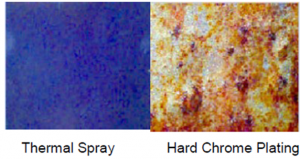 Enhanced durability
This graph demonstrates the stark difference in wear resistance provided by HVOF coatings in comparison to hard chrome. All four HVOF coatings exhibit significantly better abrasive wear resistance than hard chrome, with Tungsten Carbide offering a wear resistance more than one-hundred times hard chrome.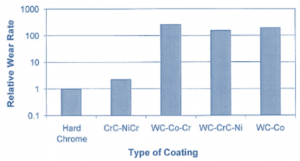 Speed up turnaround times
HVOF thermal spray is a process which takes hours, in contrast the multi-stage electrolytic process of hard chrome plating typically takes 24 hours to complete.
Requiring significantly less manual intervention than hard chrome plating, HVOF is available as an automated process at Surface Technology.
Hard chrome plating requires a substrate to be; degreased, cleaned, grit blasted, rinsed, etched, rinsed, plated, rinsed, dried and finished
In comparison HVOF thermal spray is a four-stage process where the substrate is; cleaned, grit blasted, sprayed and finished. 
As with all surface engineering coating and plating services, choosing the correct process and method is essential to achieving the best end result. At Surface Technology we have in-house technical support who work with customers to ensure they achieve the best end result. 
If you are looking to move away from hard chrome, have a REACH concern, would like to find out about HVOF thermal spray or any other coating or plating, contact us now to discover how we can meet your requirements.
To discover more about the services we provide and to discuss your requirements further, contact us now.
Register below for our monthly email and stay up-to-date with the latest surface engineering white papers, case studies and innovation news.