The Flying Scotsman – an engineering marvel is reborn today but how has surface engineering evolved for modern day rail rolling stock?
This morning, following a 10-year £4.2m restoration project, the Flying Scotsman is taking to the tracks once more for its inaugural run from London to York.
Designed by former Chief Mechanical Engineer of the London and North Eastern Railway, Sir Herbert Nigel Gresley, the Flying Scotsman was built in 1923 and 9-years later became the first locomotive to break the 100mph barrier.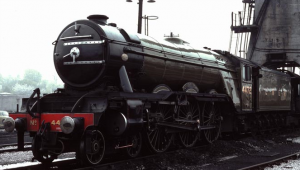 Innovation of the valve gear, coal carrying capacity, water tank and the addition of a corridor through the water tank, connecting the locomotive cabin to train, enabled the Flying Scotsman to provide a non-stop service from Edinburgh to London in 8 hours.
Needless to say, surface engineering for rail rolling stock has evolved since the 1920s but how and what challenges does it help overcome today?
Protection:  Modern day coating technology and application processes offer far greater durability for rolling stock; for body shell exteriors as well as roofs, bogies, wheelsets, underframes and underframe equipment. Not only ensuring corrosion and wear is minimised to prolong service life but also enabling graffiti to be easily removed – a challenge far removed from the 1920s.
Aesthetic: The Flying Scotsman has operated under British Rail Green and black livery during its lifetime but modern day rolling stock livery has far greater colour options as well as finishes that help incorporate advertising livery.
Maintenance: Through technical assistance on coatings and application techniques, rail engineers are able to minimise maintenance and add thousands of extra miles service to rolling stock before maintenance is required. Through additional services, such as the SIFCO Process®, worn axle bearing journals and wheel sets, damage to hydraulic and seal surface and worn seal wear ring areas can be restored or resized (even in-situ – without having to be taken off rolling stock). A process commonly used in the US to reduce cost and minimise downtime, selective plating in the UK remains under utilised by rail engineers.
Whilst the innovation and endeavour of the Flying Scotsman continue to inspire, modern day surface engineering techniques ensure that asset owners, operators and contractors have a long lasting, easy to maintain product that is safe and reliable.
Register below for our monthly email and stay up-to-date with the latest surface engineering white papers, case studies and innovation news.