The art and science of enhancing material aesthetic and performance
Corrosion, wear, friction and porosity are the core challenges that effective coating and plating services overcome. But improving the longevity or performance of a component is just part of the consideration when the final appearance is important too.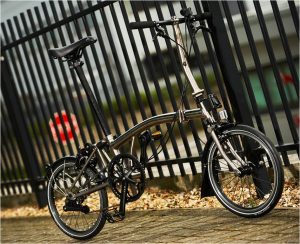 From the rich depths of copper plating to the vivid colours of powder coating, there's a wide spectrum of finishes available which offer a dual benefit to manufacturers looking for performance and aesthetic results.
Electroless Nickel plating gives shine and corrosion resistance for iconic British bicycle manufacturer
Brompton Bicycles is one recent example where we have helped a customer create a product using a coating which offers both a striking aesthetic finish and exceptional corrosion resistance characteristics. 
Launched worldwide in spring, Brompton's Nickel Edition bike uses electroless nickel plating to create a unique, lustrous finish. Commonly used to protect subsea oil and gas technology, electroless nickel provides a highly effective protective coat against corrosion.
Adding value and improving performance 
The combination of improved appearance and colour options, together with greater protection from wear, friction and corrosion has also enabled automotive and motorcycle manufacturers to add value to their end product and enhance the range of options they are able to offer customers.
The variety of brake caliper colour options available when purchasing a new car and motorcycle has grown exponentially over the years. But it's not just the colour options that have improved; the performance of the caliper itself has also improved thanks to zinc alloy plating being used in combination with powder coating and the introduction of ceramic coatings for improved braking performance under high temperatures.
With thousands of potential combinations, there is a coating and plating solution to fit most requirements – both from a function and appearance perspective. The challenge is deciding which options work best.
Contact us now to discover how we can develop a dual coating solution that delivers the performance and aesthetic you are looking for.