Surface Technology recognised for outstanding service by OneSubsea
Surface Technology in Leeds, part of Norman Hay plc, has further reinforced its position as a leading supplier of coating services to the oil and gas industry by receiving a Silver supplier award from OneSubsea.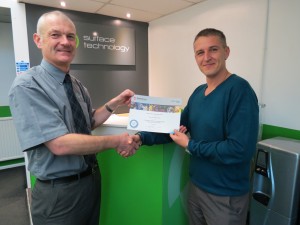 OneSubsea, a Cameron and Schlumberger company, delivers integrated solutions, products, systems, and services for the subsea oil and gas market. The company's unique Pore to Process™ approach helps provide end-to-end solutions from reservoir to surface, that address client challenges with the goal of optimizing production and increasing recovery.
A customer of Surface Technology, OneSubsea awards suppliers by recognising rigorous quality and delivery reliability standards.
The Silver supplier award is presented to suppliers that have consistently met quality levels in excess of 99.9 per cent and on-time delivery above 96 per cent for 12 consecutive months.
During the 12-month period from November 2014 to November 2015, Surface Technology processed approximately 800 components from OneSubsea with a range of coatings, including nickel, dry film, and paint, often with a combination of coatings making processing very complex. The variety of components processed indicates that Surface Technology delivered a robust approach in all of the areas assessed.
OneSubsea also continually monitors the performance of their suppliers through software systems that assess vendor capability, business operations, and customer relations.
In order to maintain high service standards, Surface Technology hosts weekly meetings to monitor parts in process; regulating procedure and implicating change in areas of need. Additionally, Surface Technology and OneSubsea have actively worked to improve performance through cultivating a more collaborative working approach and developing communications within the customer-supplier relationship.
Surface Technology has more than 60 years of experience in the development and application of high performance surface treatments. It applies specialist engineered coating solutions to cope with the demands of sophisticated and highly expensive subsea drilling, extraction and processing equipment.
Graham Rackstraw, Operations Director at Surface Technology Leeds, said: 'We are thrilled to have been recognised by OneSubsea for our commitment to providing a quality service to the tight timescales required. We prioritise customer satisfaction and are elated that this is reflected in our Silver supplier award.'