Surface Technology comes 'full cycle' for Brompton special edition
Specialist coatings supplier Surface Technology, part of Norman Hay plc, has partnered with the UK's largest bike manufacturer, Brompton Bicycle, to provide a distinctive coating for its 2016 Nickel Edition.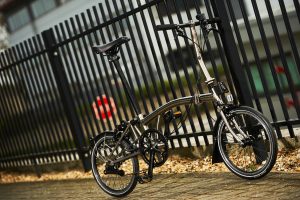 Launching worldwide this spring, the Nickel Edition is coated using Surface Technology's electroless nickel plating solution and is the most advanced finish used by Brompton to date. 
Although Surface Technology is usually known for its high performance engineered coatings in industries such as oil & gas, automotive and power generation, its parent company's first major application was in fact chrome plating bicycle bells 70 years ago. Peter Hay, Chairman of Norman Hay plc, said: "There is certainly an element of nostalgia with this sector. The business has come a long way in 70 years and our platinum anniversary offers the perfect chance to celebrate the foundations on which our company was built." 
Surface Technology was commissioned by Brompton for the Nickel Edition due to the chemical and corrosive protection offered by electroless nickel plating, as well as the decorative finish and reflective design. Typically this type of coating is used for mining and deep-sea drilling equipment but it can be tailored to any application.
There are only 1,500 Nickel Edition bikes being manufactured this year, making the bike an exclusive purchase. 
Gareth Ridge, Sales Manager at Surface Technology, said: "This has been a really exciting project for us and a unique application for our electroless nickel plating solution. Brompton is an iconic brand which has gained global critical acclaim for its innovative folding bike design and we are proud to have been involved with their latest creation. The bike has a stunning finish and showcases both the functional and decorative benefits of the coating."
Will Carleysmith, Chief Design & Engineering Officer at Brompton Bicycle, added: "We are delighted to be introducing the Nickel Edition to our 2016 collection. The electroless nickel plating solution provided by Surface Technology gives the bike our most advanced finish to date offering exceptional corrosion resistance and a striking design."