How to protect and extend the life of offshore oil and gas equipment: The benefit of HVOF Thermal Spray over Weld Cladding
Offshore rig operators in the UK, and the oil and gas sector as a whole, is operating in a tough market environment at present and operators, original equipment manufacturers (OEMs) and the wider supply chain is having to adapt.
As manufacturers and operators look to become leaner, the role that engineers have to play in reducing costs for offshore operators cannot be overlooked.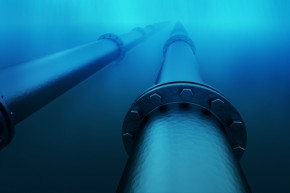 With equipment in the North Sea being kept in the field for as long as possible, the requirement for cost effective, timely repair and maintenance of offshore equipment has not been greater.
At Surface Technology we provide a range of innovative repair and maintenance services which prolong the service life of subsea equipment. From Outer Connector Sleeve repair to the thermal coating repair of Blow Out Preventer pressure control valves, we are working with operators to reduce operating costs and maintain safe, reliable and efficient offshore equipment.
Over a series of Blog posts we will be examining how the Oil and Gas industry, through innovation of equipment repair and maintenance processes, can become leaner and more efficient. 
The benefit of thermal Spray repair over weld cladding 
A common method for subsea equipment in need of repair is to weld clad using inconel. A process that will sufficiently maintain and repair the surface structure with the right characteristics. However, weld cladding involves pre and post heat treatment which affects structural integrity. It is therefore a process that can only be carried out a maximum of three times to prevent stress related structural failure.
HVOF thermal coating however is a process that offers the same repair characteristics of weld cladding but without changing the metallurgical structure of the surface being repaired. This is because, as opposed to weld cladding, HVOF thermal coating involves a moderate transfer of heat from the powder particles to the surface being repaired, which remains relatively cool. 
Additionally, HVOF thermal spray involves no pre or post heat treatments, subsequently resulting in shorter turnaround times. 
The result of taking an alternative approach to structural repair on oil and gas equipment is a stronger, longer lasting and faster repair process. In addition, through our automated HVOF thermal spray technology at Surface Technology we are able to provide a repair service that delivers a consistent, high quality finish.
Download our new white paper: Providing a new lease of life for oil and gas equipment in stormy times or contact us now to discuss how we can help you repair and maintain offshore oil and gas equipment.
Register below for our monthly email and stay up-to-date with the latest surface engineering white papers, case studies and innovation news.