Precision engineering demands precise plating and coating solutions – how you can deliver even better results for your customers
A precision engineered product demands a similarly precise approach to its coating or plating.
There are plenty of businesses throughout the UK offering coating and plating services who will take in work and apply a customer's desired finish. There are, however, very few who will provide the technical support to choose the best chemistry and application method.
In this week's blog item we look at how a manufacturer of precision engineered blowmoulds for a contact lens manufacturer benefitted from technical support to supply an improved end product, which their customer loved.
When precision engineering and precision plating combine
A precision engineered blowmould, made out of p1009 stainless steel enables a French pharmaceutical company to form, fill and seal plastic ampoules with saline solution for the contact lenses they manufacture.
However, due to the highly corrosive saline solution it is essential to provide the maximum corrosion protection for the blowmould p1009 stainless steel. This ensures no damage occurs to the base metal and so safeguards against peeling or flaking under the stress of production.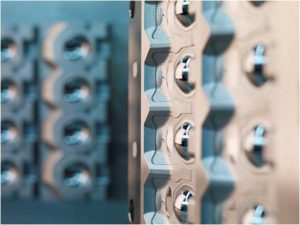 A minute particle of separated coating would not only risk corrosion but also threaten the integrity of the contact lenses the French company were manufacturing.  
Precise, consistent dimensions for the blowmould are also essential and so a uniform 10 micron thickness with no tolerance range is required for the prospective plating or coating.
A reputation for working with precision engineering companies to provide an effective plating and coating service led the blowmould manufacturer to approach Surface Technology.
As one of the few coating and plating businesses with an in-house technical team we were able to focus on the challenges and develop a workable solution for the blowmould manufacturer that would meet all of the stringent requirements for the French pharmaceutical company's contact lens manufacturing operation.
Electroless nickel plating was the recommended solution due to its anti-corrosion characteristics, however the risk of peeling from electroless nickel plating presented a challenge for our technical team.
The electroless nickel formulae was narrowed down to two, including a high phosphorus sample. Because the chemical composition of the customer's contact lens solution is a closely guarded secret, the samples were sent to France for testing in their own laboratories.
Submerged in a solution of Sodium Chloride for a period of two weeks, both samples withstood the test equally well. A further trial in Nitric Acid, however, revealed the superior resistance of the high phosphorous formula and this was adopted.
Choosing the right chemistry is just half the challenge however – the plating process itself would also have to be carefully managed to ensure a high quality output was achieved.
Aware of the low ductility of electroless nickel, the major concern was to ensure maximum compressive stress. Noting the sharp increase in tensile stress after four complete cycles of the chemical bath, the plating solution was discarded at pre-emptive intervals. The result is an evenly deposited envelope of electroless nickel with no weak spots.
Meticulous preparation; testing the moulds for metallurgical cleanliness before processing, and stringent quality control throughout led to a consistent, high quality plating service which met the quality and turnaround times required.
Surface Technology's technical assistance meant a longstanding corrosion issue was overcome and a safer, longer lasting product was supplied by the precision engineer to their French pharmaceutical customer – a result which delighted both parties.
To discover more about the services we provide and to discuss your requirements further, contact us now.
Register below for our monthly email and stay up-to-date with the latest surface engineering white papers, case studies and innovation news.