Mould release – 5 reasons to stop using release agents and move to fluoropolymer coatings
The challenge of generating and maintaining non-stick surfaces is ever present in many industrial applications and manufacturing environments.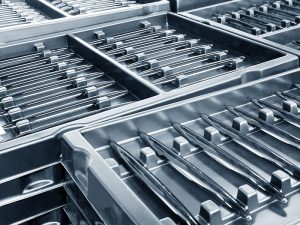 Release agents are the commonly used solution for this challenge, however there are distinct benefits to using fluoropolymer coated moulds instead.
Why use fluoropolymer coating instead of release agents?
No physical or visual change to mould properties:  Residues from release agents can have an adverse affect on the physical and visual properties of moulds. In many instances this results in residues having to be removed either manually or by a mechanical process.
More cost effective: Release coatings are very expensive in comparison to fluoropolymer coatings, they are also time consuming to apply.
Longer lasting: Fluoropolymer coatings are significantly more hard-wearing than release agents and therefore last longer. 
Increase production efficiency: Because fluoropolymer coatings are far more effective at providing a non-stick surface, processes where dust or waste residue is an issue are reduced or completely nullified. Minimising the need for maintenance and production downtime.
Minimise production downtime: Reducing sticking decreases the risk of de-moulding forces and instances of operatives having to physically remove parts from moulds. Helping to minimise quality non conformance and production wastage.
What can fluoropolymer coatings be used for?
Conveyer systems

Food processing

Fasteners

Vacuum forming

Thermoforming

Injection moulding

Rubber and elastomer moulder

Potting jigs

Reprographic rollers

Forming mandrels

Chemical storage vessels
Contact us now if you are interested in discovering how fluoropolymer coating could be used to meet your requirements. 
Register below for our monthly email and stay up-to-date with the latest surface engineering white papers, case studies and innovation news.