Metal foam presents an exciting new material for engineers to explore
Metal foam is a zinc-aluminium-silver alloy which is said to be able to stretch up to 100 times its original form.
Developed by Mexican company, LTM Hotspot, the material is made through a transformative process – similar to copper, silver and aluminium – which sees it transform from a liquid to solid state.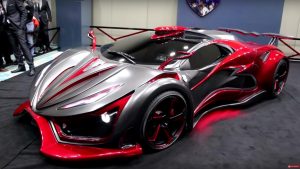 Capable of being manipulated to meet multiple applications, metal foam is already being explored as a new material for the automotive and medical industries.
As a porous metal alloy, the material mimics a structure that can be found in bones, coral and some rock formations, resulting in a material that is light and strong. 
Mexican University, Universidad Autonoma del Estado de Morelos, are currently undertaking a project to develop metal foam for commercial use across a variety of applications.
One exciting application where the material can be found comes in the radical shape of the Inferno, a 245mph hypercar with a chassis made from metal foam.
The strong, lightweight and relative low cost of metal foam – when combined with hydroxyapatite ceramic – also means metal foam is viable alternative to titanium and other heavier and corrosive metals for medical implants.
For more information on automotive surface engineering best practice, request a free copy of our automotive surface coatings white paper here: The guide to selecting automotive surface coatings and optimising component performance.
Find out about the range of services we provide for the automotive and medical sectors; automotive parts, precision engineered components, fuel cell and renewable technology, medical device coatings.
To discover more about the services we provide and to discuss your requirements further, contact us now.
Register below for our monthly email and stay up-to-date with the latest surface engineering white papers, case studies and innovation news.