From Gigafactories to gigantic wind turbines; the role of surface engineering in the advancement of renewable technology
Tesla's gigafactory and the recent production of the world's largest wind turbine blade are just two renewable energy items to grace the news recently, highlighting the fast pace at which renewable technology is advancing.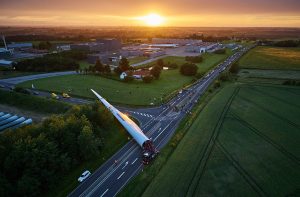 From the design and engineering process to manufacturing infrastructure, boundaries continue to be pushed and technology that wasn't seen as practical or efficient enough to usurp the CO2 fuelled equivalent is now becoming ever more present in everyday life.
The adoption of fuel cell technology in the automotive industry is one example of this, with sightings of plug-in hybrids such as Mitsubishi Outlander PHEV, Renault Zoe, Nissan Leaf, BMW i3 and Tesla Model S becoming ever more common on UK roads.
The UK already has close to 7,000 wind turbines, with the average turbine capable of powering 332 households. By supersizing turbine blades to 88 metres, LM Wind Power however state they have increased turbine capacity to 10,000 homes per annum.
Such engineering innovations are not possible without numerous improvements and innovations along the way. Surface engineering is one such area where processes and applications need to be updated and tailored to best fit the application at hand.
Surface Engineering Solutions for Renewable Technology
Fuel cell technology: Corrosion and wear is an issue due to the chemicals and heat involved in fuel cell technology. Composite barrier coatings protect the substrate against damage from chemicals and heat, extending component life span.

Wind turbines: Selective plating using the SIFCO Process® provides a cost effective and practical method of extending the service life of rotating parts in wind turbines. Rotating parts within turbines are subject to wear and challenging environments. 
Couplings, splines and shafts: On precision engineered parts, such as couplings, splines and shafts, Electroless Nickel Plating provides a highly effective anti-fretting and anti-corrosion barrier. 
Tidal energy generators: Our in-house developed TriCem® 3800 coating is proven as a highly effective anti-corrosion coating for tidal energy valve and manifold components (read our Pelamis case study here). Fluoropolymer coatings also offer friction and corrosion benefits for the sliding parts operating in tidal wave generators.
Regardless of application, the renewable energy industry requires effective surface engineering. From the latest plug-in hybrid car to supersized wind turbines, the challenge to choose the optimum surface treatment application method remains. Choosing the right surface engineering partner makes a big difference; from speeding up design and engineering decisions, to manufacturing a higher quality, longer lasting and more reliable end product.
At Surface Technology we provide extensive surface engineering support for fuel cell and renewable energy technology and are increasingly being asked to collaborate with customers from the design stages of new technology. 
To discover more about the services we provide and to discuss your requirements further, contact us now.
Register below for our monthly email and stay up-to-date with the latest surface engineering white papers, case studies and innovation news.