The engineering story behind the world's first floating wind farm
Hywind, a £190m project to create a floating wind farm 15 miles off the coast of Aberdeenshire, reached a significant milestone last month as the first giant turbine was moved into place.
The pilot will see a total of five turbines towed by boat from a Norwegian fjord to the Hywind site where the turbines are expected to power 20,000 homes once up and running.
Whilst conventional offshore turbines are fixed to the sea bed, Hywind turbines float and are kept in place by tethers that are anchored to the sea floor, meaning they are capable of operating in waters up to 1km deep.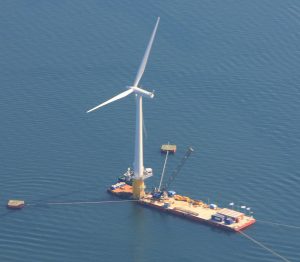 The depth of which floating turbines can operate has opened up offshore wind power to Japan and the West Coast of the US, where waters are too deep for conventional turbines.
Engineering the next generation of offshore wind farms
Standing 175m and with 75m blades – close to the wingspan of an Airbus, Hywind devices are equipped with a 2.3MW Siemens turbine. Software monitors conditions and adjusts blade angles according to motions from wind, waves and currents.
Each turbine floats on a 78m long vase-like tube, its bottom filled with iron ore to weight the base and keep the turbine upright in the water.
Getting optimum performance and longevity is essential
Operating in highly corrosive environments, choosing the optimum surface treatment for turbine technology is essential. Typically a mix of thin film coatings deposited through PVD (physical vapour deposition), PACVD (Plasma-Assisted Chemical Vapor Deposition) and heat treatment provide the protection needed.
One additional process which is offering a number of maintenance and repair benefits to engineers for offshore technology is selective plating.
At Surface Technology we have a number of technical experts who are hugely experienced in working with manufacturers to develop efficient and effective coating and plating systems.
Contact us now to discuss your coating requirements further. 
Require surface treatment services? Contact us now to discuss your requirements further.
Register below for our monthly email and stay up-to-date with the latest surface engineering white papers, case studies and innovation news.