Engineering Santa's Sleigh
In just a matter of days Santa Claus will set off from Lapland in his famous red sleigh. Laden with this year's must-have Furby and Star Wars toys, he will travel 317 million miles across oceans and continents throughout the night on Christmas Eve.
Fuelled on a mix of mince pies, sherry and carrots, Santa and his reindeer have a huge task on their hands to make sure the millions of children around the world receive their presents for Christmas.
At Surface Technology we thought we'd try and get our heads around the surface engineering required to ensure Santa and his reindeer complete their epic annual mission.
Unfortunately we don't have any information from the highly secretive Elf R&D – undoubtedly the world's most eminent research and development centre – but using our own technical team, we've considered the unique requirements for Santa's sleigh and have outlined the mix of coatings which could well be used.
Engineering Santa's Sleigh
With only a 32 hour window to complete all his deliveries, speed is of the essence for Santa. There are many theories on how the sleigh is propelled at 0.97 per cent of light speed – from Reindeer sharing the same nutritionist as Russia's 2012 Olympic team, to rocket propulsion.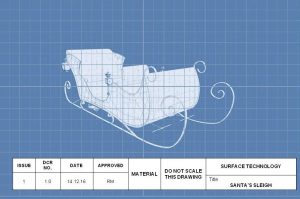 What we do know however, is that a coating capable of operating effectively within high temperatures will be important. Ceramic coatings, such as those used by NASA on their space shuttles are a viable option for the sleigh's body panels. 
Thermal spray, such as HVOF may also be used for any moving components, such as turbine components (if rocket propulsion is used) due to its ability to operate at high temperatures and provide improved protection against wear, corrosion, fatigue and oxidation at high temperatures – the last thing Santa needs is a mechanical malfunction with such a tight schedule.
Sleigh Runners
With so many deliveries to make, the runners at the foot of Santa's sleigh will make millions of landings and take offs. A broken toy just won't do on Christmas morning so a smooth landing is essential.
We think selective plating may be used in the Elf workshop each year to make sure Santa's runners are maintained and ready for the Christmas takeoff. Using the SIFCO Process® nickel, alloy or cadmium could be used to re-plate any worn or chipped areas on the runners. Plus, the process is FAA approved – keeping Santa off the Federal Aviation Authority's naughty list.
Brakes
We presume the reindeer are integral to stopping the sleigh at each drop-off point but for a little extra stopping power Santa's Elves may have opted for a mechanical braking system. A combination of zinc alloy plating and powder coating (RAL 3020 of course), or possibly even ceramic coating could be used to make sure Santa doesn't miss a stop.
Climate control
Travelling across the skies of everywhere from Afghanistan to Zimbabwe – and 194 countries in between – Santa will be exposed to temperatures ranging from sub zero to over 35 degrees.
We presume Santa's suit is made from Lapland's finest performance materials with both warmth and breathability in mind but for some added comfort, particularly in hot climes, the Elves may have equipped Santa's sleigh with air conditioning.
To safeguard air conditioning parts from porosity the Elves will have used impregnation sealant, such as Ultraseal's Rexeal 100 to prevent leaks. 
Whilst at Surface Technology we provide services for many exciting engineering and manufacturing projects; from Formula One to subsea oil and gas, the answer to how Santa and his reindeer deliver all those presents on Christmas Eve will have to remain a mystery for another year.
We wish all of our customers around the world a very merry Christmas and a prosperous New Year.
Our UK sites will be closing on the 23rd of December and will re-open on January 3rd in England and January 4th in Scotland.
To discover more about the services we provide and to discuss your requirements further, contact us now.
Register below for our monthly email and stay up-to-date with the latest surface engineering white papers, case studies and innovation news.