Easter – a time when food and beverage production ramps up and effective surface engineering comes into its own
Easter, the second busiest period for the food and drink industry is upon us and many food and drink manufacturers will be pushing their equipment to its maximum.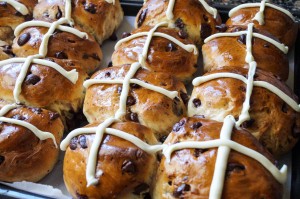 With more than 80 million Easter eggs and many millions of hot cross buns sold in the UK this year, it is essential for manufacturers to be geared up to maximise the opportunity created by Easter demand.
The role of surface engineering for seasonal bursts of production
At Surface Technology we work with major food and drink companies such as Warburtons and Speedibake to ensure their production equipment is food safe, efficient and reliable.
Coatings and application methods differ widely depending on the product and equipment type. However, there is a surface engineering solution to improve machinery and equipment used to do everything from sorting and packing, to filling, moulding and printing.  
It is safe to say that through using the optimum coating and application processes, manufacturing equipment is able to reliably operate with maximum efficiency – essential for bursts in seasonal demand when the issues created by inefficient and unreliable equipment multiply.
Whether you're a baker, drinks manufacturer, chocolatier or crisp manufacturer, we have a wide range of food safe coating applications that provide wear resistant, non-stick, low friction and non-wetting surfaces.
Our key considerations for food and drink manufacturers looking to evaluate and choose their surface engineering options are:
Work with a specialist who takes a customer-led approach and will look to understand your individual challenges, whether that is wear, sticking or friction
Ask for a list of food safe coatings the supplier is able to apply 
Seek to find out turnaround times and production flexibility from any prospective supplier
Ask for evidence of any work the supplier has completed for similar food and drink manufacturers
What sort of technical resource does the supplier have? Are they able to interpret your challenges and develop a more effective solution?
Register below for our monthly email and stay up-to-date with the latest surface engineering white papers, case studies and innovation news.