The dolphin effect: how surface engineering is innovating aerospace engineering
Farnborough International Airshow, one of the biggest events in the aerospace calendar, takes place this week and the issue of how the industry continues to grow whilst negating its environmental impact continues to be high on the agenda for manufacturers and suppliers alike.
Recent aircraft, such as Boeing's Dreamliner and Airbus' A350 XWB, have improved fuel efficiency by material, engine and aerodynamic innovations but there remains a pressure on manufacturers to continue reducing the environmental impact of aviation.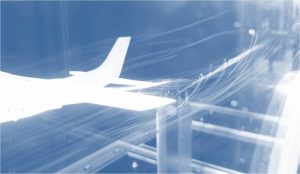 The role of surface engineering and advanced coatings 
The surface engineering and advanced coatings industry plays a crucial role in the manufacture of aerospace parts and components. At Surface Technology and SIFCO ASC alone we provide surface engineering services for anything from fuel connectors, heating systems, turbine blades and electronic housings to tyre moulds and landing leg repair.
With the industry playing an integral role across so many components used throughout aircraft, it is no surprise that coating technology is now becoming the latest element to be investigated for its potential to improve aircraft efficiency.
Biomimicry – using the dolphin effect to reduce drag
Inspired by the way dolphin skin reacts to the conditions of surrounding water; rippling the skin when faced with turbulence to suppress it, Airbus senior manager of flight physics research, David Hills believes significant aerodynamic gains can be made through applying the dolphin effect to aircraft.
Forty per cent of drag is said to be caused by a thin sheet of air that exists just above the aircraft surface during flight. Hills believes it is possible to reduce this to almost zero, therefore greatly increasing efficiency. 
The notion of a compliant surface requires a great amount of research and is therefore a long term concept. However, other biomimetic influences on surface engineering have already begun to assist in reducing aircraft drag.
Shark-inspired paint set to reduce fuel use
A paint has been created at The Fraunhofer Institute in Germany, inspired by the skin of a shark. The paint incorporates grooves similar to the riblets on a shark's skin. The paint also contains nano-particles, enabling it to resist UV radiation and changing temperatures. The institute claim that if the paint was applied to every aircraft in the world it would save 4.48 million tonnes of fuel annually. Developers predict the potential use of this by 2018. 
Boeing are also aware of the potential of biology in engineering innovation, with a number of members being sent to the rainforests of Costa Rica to take inspiration from their surroundings, organised by the Biomimicry Guild. 
At Surface Technology we believe that in order to continue advancing surface engineering, great strides can be made through biomimicry; by better understanding how living organisms have evolved to meet their environmental challenges. 
Over the course of 2016 we will continue to look at the natural world as a driver for surface engineering innovations and improvements. From fish to amphibians and plants to arachnids, we will put nature under the surface engineering lens in our Biomimicry in Surface Engineering series, published in this blog. You can also make sure you don't miss an issue by registering below to receive our monthly surface engineering update.
Register below for our monthly email and stay up-to-date with the latest surface engineering white papers, case studies and innovation news.