Powder coating – the importance of masking and jigging to achieve high quality and dual coat finishes
Powder coating is a process that is carried out by thousands of companies throughout the UK. Fast, cost-effective and available in a huge variety of colours, powder coating is applied to everything from bicycle frames to architectural structures, household appliances to car brake calipers.
When it comes to covering a whole item in a uniform colour and finish, powder coating can be applied far faster than paint, thanks to its dry, powder substance that is electrostatically attracted to the part. It is also harder wearing and offers good ductility and anti-corrosion properties.
However, what if you have a part where you don't want every surface, threaded hole or edge covered in the same uniform powder coated finish? Masking is the answer.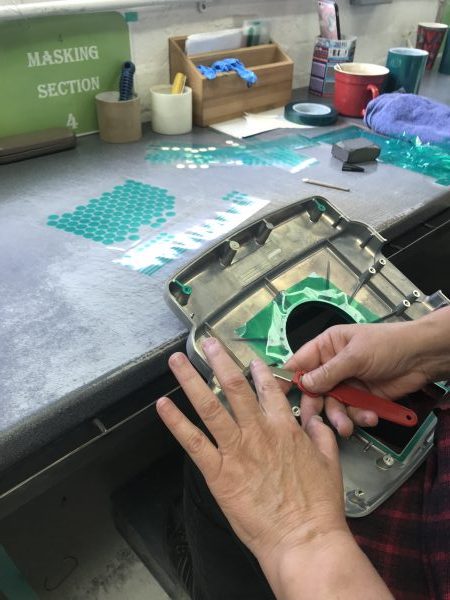 Surface Technology Slough are masters at the art of masking. Working across a variety of applications ranging from medical equipment, to premium lighting fittings, a team of sharp-eyed, steady-handed maskers carefully apply special tape onto and around the shapes and angles of customers' parts.
The skill of the people at Surface Technology and their ingenuity at overcoming problems through custom jigging and masking is what has led to the company taking on so much powder coating work that others simply could not do.
Custom Jigging for Powder Coating
One of the draw backs of powder coating is that it is very difficult to avoid powder build up in shapes with tight angles. As you try to throw powder coating into the corners of a part it is very easy to cause an un-even coating on other surfaces.
One multi-national electronics manufacturer was looking to powder coat a series of plug sockets for a series of new train carriages.
Having approached and tested powder coating with a handful of suppliers they were finding that quality was patchy.
Surface Technology however were able to put together a special piece of custom jigging to enable the inner angles of the part to get a full and even coverage. 
Blocking off the external faces, only the inner angles were exposed through the jig, enabling a more focused approach for the initial powder coating. Once removed, the powder coat could be applied to the external faces of the part, and inner surface plugged, resulting in an even coverage without powder build-up.
Masterful masking for dual powder coat finishes
A premium light manufacturer, whose products can be found in palaces, mansions and exclusive hotels around the world, were looking for a dual coated finish for a line of exterior down lights.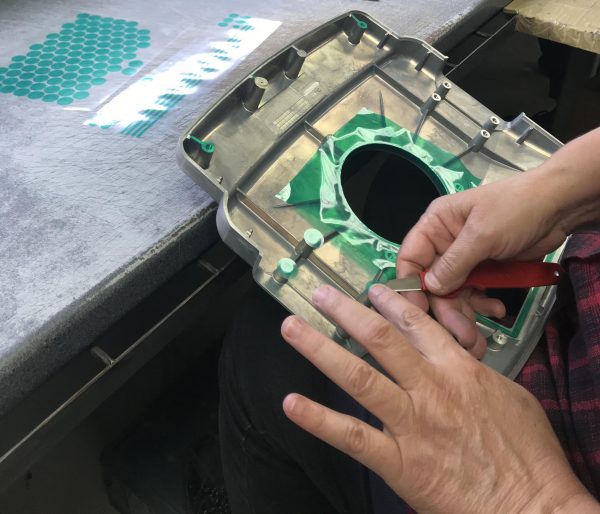 With a domed top coated in green and 2mm circular face and inner dome coated in white, the manufacturer was looking for a powder coater with reliable masking to provide a sharp, uniform coating that consistently met the highest quality finish.
To achieve the dual coated finish the 2mm rim and inner dome needed to be masked. To mask to such tight tolerance around a circular shape is no mean feat, however with Surface Technology's team of skilled maskers, a technical masking solution was tested and found to work across a test run of domes – a solution no other powder coater the light manufacturer approached were able to find.
As a dual process, a special mix of tape was required to ensure adhesion of the tape was maintained through the heating process, where the powder coated surface is dried.
The result is a high quality, dual coated premium finish that meets the exacting standards set by the manufacturer.
Get the best powder coating solution for your components
When it comes to achieving a high-quality powder coated finish for parts and components consisting of angles, complex geometries or shapes, masking skill and experience is a must. For certain applications a jig can also offer a suitable method to achieve the necessary finish for the given part.
Do you have an application where you're looking to use powder coating for its colour options, ductility, wear and corrosion protection? Is shape, angles or geometry an issue? Are you looking for a dual powder coat finish using different colours?
Find out more about the powder coating services we offer at Surface Technology or contact us now to discuss your surface finishing requirements further.
Register below for our monthly email and stay up-to-date with the latest surface engineering white papers, case studies and innovation news.