Dragonfly wings inspire new anti-bacterial nano-coating
Researchers at the Institute of Bioengineering and Nanotechnology (IBN), in Singapore, have developed a new coating that kills 99.9% of bacteria on surfaces – an idea that took flight thanks to dragonfly wings.
Scientists found that the wings of dragonflies and cicadas are covered with microscopic structures, known as nanopillars, which instantaneously destroy bacteria that comes into contact with them.
Inspired by this, a team at IBN have spent four years developing an anti-bacterial nano-coating using zinc oxide, a compound known for its non-toxic and anti-bacterial properties.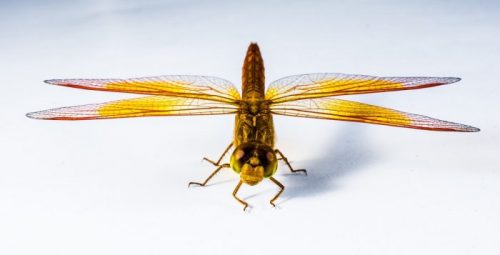 Tests on ceramic, glass, titanium and zinc surfaces have shown that the nano-coating mimics the effect of the dragonfly wing nanopillars by completely destroying bacteria upon contact.
The advantage of destroying bacteria on contact is that is prevents the formation of resistant bacteria – unlike current disinfectants  – and stops the rapid multiplication effect which requires today's disinfectants to be applied with increasing regularity.
Disinfectants also contain chemicals like triclosan, which pose the risk of leaching into the environment. 
The new nano-coating takes anti-microbials and other chemicals which may leach into the environment out of the equation.
Research scientists at IBN are currently working with Tan Tock Seng Hospital (TTSH) to test the coating against resistant clinical and environmental strains of micro-organisms.
Subject to successful lab tests, there are plans to test the coating in a working hospital setting at TTSH.
Developers naturally see the nano-coating as an effective solution for medical applications but further studies on the coating's viability for water purification and air filtration are also in the pipeline.
Require coating services and technical advice for medical applications? Contact us now to discuss your requirements, we offer a range of proven solutions for medical devices and equipment.
Interested in biomimicry? We've covered several coating innovations in this blog:
– Insect biomimicry may lead to a new wave of high-grade, lightweight plastics: http://www.surfacetechnology.co.uk/blog-17-insect-biomimicry-may-lead-new-wave-high-grade-lightweight-plastics/ 
– Nasa, coating technology, and the lotus leaf phenomenon: http://www.surfacetechnology.co.uk/nasa-coating-technology-and-the-lotus-leaf-phenomenon/
– How dolphins are helping innovate surface engineering for aerospace manufacturers: http://www.surfacetechnology.co.uk/dolphin-effect-surface-engineering-innovating-aerospace-engineering/
Register below for our monthly email and stay up-to-date with the latest surface engineering white papers, case studies and innovation news.