UK manufacturing needs to realise the value in remanufacturing to catch up with US and Chinese counterparts
UK manufacturing has come a long way but manufacturers still have some distance to go if they're to catch up with their US and Chinese counterparts, where remanufacturing is concerned.
A research and innovation report, published by the European Commission, which examined the Global remanufacturing landscape, has found that Europe is lacking clear remanufacturing vision and strategy, unlike US and China.
What is Remanufacturing?
Remanufacturing is the industrial practice of returning a product to at least its original performance, with a warranty that is equivalent or better than that of the newly manufactured product.
Remanufacturing is the root and branch process of disassembling restoring and, where necessary, replacing components. It is a practice that extends the lifetime of products and therefore reduces the pressure on critical raw materials – which are becoming ever scarcer. Through an effective remanufacturing approach manufacturers can create a sustainable closed loop system. A system which is also referred to as a circular economy.  
What's the current remanufacturing situation in the UK now?
The core manufacturing sectors where remanufacturing currently takes place are; aerospace, automotive, heavy duty and off-road (HDOR) equipment, electronic and electrical equipment (EEE), machinery and medical equipment, furniture, rail (rolling stock), and marine.
At present the annual value of remanufacturing across these 10 sectors in Europe is €30bn and €4.4bn in the UK. However, experts have stated that the combined €30bn value of European Union remanufacturing could triple by 2030 to €90bn.
The potential is large but there are a number of hurdles to overcome if the UK is to increase the value of remanufacturing 3 fold over the next 20 years. The perception of remanufacturing is a significant stumbling block. Manufacturers and consumers alike need convincing that an old part can become as good, or even better than new. High labour costs and the availability and quality of used parts to be remanufactured into new parts are other obstacles. 
What are the benefits of manufacturers adopting remanufacturing in the UK?
Increased profit margins, reduced lead times, potential lower product prices, a more secure customer base, strategic advantage and secure spare parts supply are just some of the benefits available to UK manufacturers.
One manufacturer in the UK embracing remanufacturing, and reaping the rewards, is Caterpillar.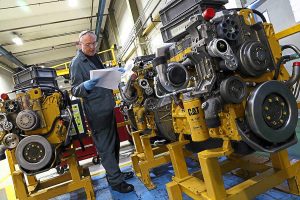 Caterpillar's remanufacturing programme is recovering 2.2m products. Typically 10 per cent of the company's earth-moving equipment is remanufactured, covering; transmission, engines, short and long blocks, pistons, water pumps, oil pumps and cylinder packs.
Caterpillar's core deposit scheme, which incentivises customer to return old equipment in exchange for a 25 per cent discount on a remanufactured part (with the same performance and warranty as a new part), has effectively closed the manufacturing loop and helped extend customer relationships. The scheme has also ensured CAT has a regular stream of core for their spare part inventory, whilst reducing material cost – a win-win for CAT and their customers.
The route to remanufacturing for UK manufacturers
Material makes up the bulk of costs for UK manufacturers. The prospect of reducing material cost and so increasing profit margin makes for a compelling case. However, for remanufacturing to work other costs, including people, time and logistics need to be carefully managed for a solid business case to be made.
Automated disassembly is one method which is looking to speed up the remanufacturing process and remove costly labour expenses. Something the University of Birmingham is pioneering alongside Caterpillar and Meritor. 
Critical Raw Materials
An effective supply-chain is also integral to the success of remanufacturing, particularly where the reconditioning of critical raw materials is concerned. Effective quality control, process capability and capacity are integral.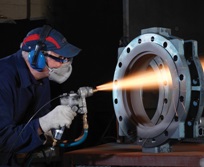 From electroless nickel plating and dry film lubricant, to HVOF thermal spray, at Surface Technology we rebuild worn surfaces precisely back to their original tolerances. Our services enable manufacturers to return parts back to be as good as new. In some cases services actually improve the component performance to be better than a new part – as is the case in our oil and gas HVOF remanufacturing case study.
Selective plating for a closed loop system
Selective plating is a targeted and precise method of re-building surfaces back to their original tolerance and specification. From aerospace to automotive, electronics to rail, selective plating is a highly effective method for manufacturers to remanufacture critical raw materials.
Our sister company and leading provider of selective plating equipment and services, SIFCO ASC, has also innovated the process further by enabling process automation. Something leading oil and gas and aerospace manufacturers are already adopting.
Next steps 
To understand the feasibility and benefit of moving to a remanufacturing process requires an understanding on where the critical raw materials are. With an understanding on the cost of the material for each part, the time and cost of disassembly and the cost, benefit and potential for repair a solid business case can be formulated for remanufacturing.
The bulk of this business case will be built by the manufacturers themselves; however surface engineering specialists like Surface Technology can also add value to this process. At Surface Technology our technical team have the knowledge to outline the most effective process from a cost and quality perspective. Understanding the metallurgical advantages and limitations of coating and plating processes, we are able to outline the best way forwards to remanufacturing for you. 
Contact us now to discuss your coating and plating requirements further.
Register below for our monthly email and stay up-to-date with the latest surface engineering white papers, case studies and innovation news.