Shake, whack and squeeze no more: The science behind the new super-slippery coating that will make sure you get every last drop of ketchup
Life is full of few certainties other than death, taxes and having to shake, whack and squeeze your ketchup bottle to get those stubborn last drops out – but that's all set to change.
The development of a new super-slipper coating; LiquidGlide, by scientists at the Massachusetts Institute of Technology (MIT) is set to banish the challenge of squeezing the last drop of ketchup, as well as lots of other products like mayonnaise, toothpaste, shampoo and glue, to history.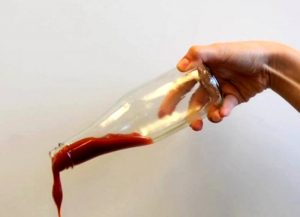 News of LiquidGlide has been covered by the world's media over the past few days but what is the science behind the coating?
LiquidGlide is unique to other superhydrophobic coatings in that it is a food-safe coating which uses a formula to create the optimum solution for each product. When the product matches the LiquidGlide lubricant, capillary forces create a permanently wet, stable non-stick surface which ensures the product contained flows straight out.
To achieve this liquid-impregnated surface, containers must first be coated on the inside with a rough surface.  A very thin layer of coating is then placed over this. Finally, a liquid is added to fill any troughs. The liquid is tailored to each product to ensure it sticks to the solid but lets the viscous liquid slide straight off.
Ketchup Bottle w/ LiquiGlide Coating from LiquiGlide on Vimeo.
The initial excitement for LiquidGlide has been around consumer products, but there is an array of industrial applications which LiquidGlide could also benefit. Increasing condensation runoff in power plant steam cycles is one area which LiquidGlide's developers are currently exploring.
Require food-safe non-stick coating for food and drink manufacturing equipment? At Surface Technology we provide services for a wide range of food and drink manufacturers; from dough hoppers to conveyor systems, confectionery moulds to hydraulic pumps. 
Contact us now to discuss your food and drink coating requirements further.
Register below for our monthly email and stay up-to-date with the latest surface engineering white papers, case studies and innovation news.