The importance of lifecycle costing when manufacturing components for sheet material, paper and textile manufacturing
Lifecycle costing is typically overlooked when manufacturers weigh up surface treatment options but in doing so the most effective options can be all too easily dismissed.
In this blog piece we outline how lifecycle costing is achieved and how this helps drive a more cost effective, efficient and well-rounded approach to surface treatment for sheet material, paper and textile manufacturing parts and equipment.
Typically large in scale and consisting of many moving parts, the process plant involved in manufacturing plastic and rubber sheeting, paper, construction materials and textile products output long coils of material to specified thickness and finish. Such production involves multiple linear rollers laid out in high-production lines. The rollers may be heated and are often required to release sticky products, apply another material to the product surface, compress the product to increase density and product the surface finish.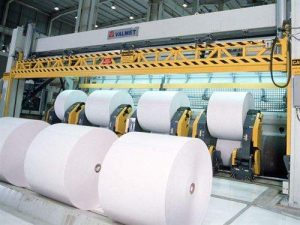 To maintain reliable output quantity and quality specialist coatings must be applied to the rollers. Coatings may have low friction, abrasion resistance, aquaphobic or aquaphilic properties. They may also have textured finishes.
When analysing coating options there are many options available – at Surface Technology we offer multiple coating and pre treatment processes to achieve a variety of results for sheet material paper and textile manufacturing components and equipment. With such choice there is of course price variation too – costs which can reach significant sums on large rolls.
Looking at the outset cost can all too often steer the surface treatment choice, however when taking a more long term outlook the higher cost of the longer lasting, higher quality and more efficient coating can prove to be the most cost effective option. 
At Surface Technology we aim to help our customers make the most informed decision when weighing up their surface treatment options. For certain applications the lowest cost option makes business sense but for many it is worth investing in a higher quality coating to reduce costly downtime, maintenance, reliability and quality issues further down the line.
For example, frequent line closures may be necessary to clean rollers. Material breaking due to adhesion to the roller, and the wrapping effect causing high tension and web failure is another risk. In these applications the cost of downtime, wastage and lower-quality product dwarf the incremental coating cost.
We have a long history of surface treatment for materials manufacturing and can handle all roller sizes – from small to the large rollers common in the paper and textile industries.
Whether a newly manufactured part or a repair and maintenance application, contact us to better understand your lifecycle cost and choose the best coating for your equipment.
Require surface treatment services? Contact us now to discuss your requirements further.
Register below for our monthly email and stay up-to-date with the latest surface engineering white papers, case studies and innovation news.