Engineering Crossrail
One of the biggest and most complex engineering projects ever undertaken, Crossrail is undoubtedly an engineering marvel.
The first completely new underground line in more than 30 years, Crossrail has involved some 26 miles of tunnel bored under central London, snaking beneath some of the capital's most historic buildings. At times the boring machines have been so close to existing stations that travellers waiting at platforms could hear them rumble as they forge a path for the new Elizabeth Line which will stretch from Reading to Shenfield, Essex.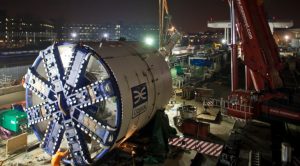 Currently 75 per cent complete, construction of the line has involved more than 15,000 men and women who've completed more than 100 million working hours on the project.
Tunnelling began in 2012 and three years later eight 1,000 tonne, 140 metre long tunnelling machines had completed the process of boring 26 miles of 6.2m diameter double bore underground rail tunnels. 
The technology
Each custom made Crossrail tunnel boring machine (TBM) has a rotating cutter head at the front followed by a series of trailers holding all the mechanical and electrical equipment.
At the front of each TBM is a cutting head which is pressed against the tunnel face by hydraulic cylinders. Inside the cutting head the disc cutters and scraping tool loosen the material. A screw conveyor removes loosened material for the cutting head through the back of the TBM and out of the tunnel via a conveyor belt.
Because of the differing geology of London two types of TBM were used; 6 Earth Pressure Balance TBMs for boring through the clay to the West and river bed deposits in the East, and Mix Shield TBMs for boring through the chalk beneath the River Thames.
Surface Engineering
Surface engineering undoubtedly played a crucial role in ensuring each TBM was capable of operating safely, efficiently and reliably.
Whilst multiple electronic sensors ensure the TBMs stay within a 1mm tolerance of the planned route and hydraulic pressures are correct, the wear, abrasion and corrosion challenges faced by the TBMs required a mix of effective coating solutions.
Dry film lubricant coatings are regularly applied by our sites to protect subsea drilling technology and so naturally present the type of characteristics required by the TBM cutting technology.
Armourcote® reinforced PTFE coatings also present many of the excellent wear, release and low co-efficient of friction required by the cutter and screw conveyor technology used in the TBMs.
Manufacture components for drilling, boring, mining or railway applications? Contact us now to discuss your requirements further.
Register below for our monthly email and stay up-to-date with the latest surface engineering white papers, case studies and innovation news.