Britpop, Friends, Nintendo Gameboy and…Electroless Nickel Plating
The 90s was a decade of Britpop, Friends and the Nintendo Gameboy but it was also a period of continued innovation at Surface Technology.
This week we are looking at the development of a new electroless nickel process for gas regulators – that's as relevant today as when it was first developed by our technical team in the 90s.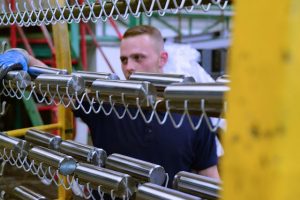 The service life of gas regulators is significantly reduced by sour gas and, to a lesser extent, atmospheric conditions.
However, the technical team at Surface Technology developed a high phosphorus electroless nickel plating process to greatly extend the service life of gas regulators. 
The unique process enables the base material to benefit from the high corrosive resistance of electroless nickel (passing in excess of 10 Kesternich cycles), whilst overcoming the common issue of the plating peeling off the base metal.
Aware that electroless nickel is a low ductility metal, the objective in the plating process was to achieve maximum compression stress and avoid breakdown in the material's cohesion occurring when tensility increases, which leads to peeling and flaking. 
The critical point of the process is identified early in the plating bath immersion sequence – when the material undergoes a marked change and sharp increase of tensility. To ensure a complete, amorphous envelope around the component, with no weak spots, the plating solution is dicarded at pre-emptive intervals. 
It's also important to note that no heavy metal stabilisers are used in the solution. Whilst these make the plating process easier, they also greatly reduce compression stress and corrosion resistance.
The process can be applied at our Leeds and East Kilbride sites to meet a range of thickness specifications; from 0.1mm to 250mm without tolerance.
The Surface Technology archives are a rich source of surface treatment innovation stretching back from the 70s to present day. As with the case in this electroless nickel plating example, many of the developments to plating and coating process and chemistry are still relevant today. 
We will be revisiting some of these developments in this Blog over the course of the next few weeks.
Contact us now to discuss your electroless nickel plating requirements.
Register below for our monthly email and stay up-to-date with the latest surface engineering white papers, case studies and innovation news.