At $28 per barrel, repair and refurbishment of offshore equipment cannot be overlooked
With the price of oil hitting a 13-year low of $28 per barrel this week we are looking at ways the oil and gas industry can significantly reduce costs, waste and environmental impact through effective repair and refurbishment of offshore equipment.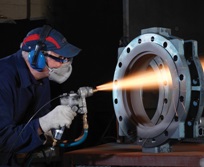 Offshore equipment operates in the harshest of environments and has to be designed and treated to withstand wear, corrosion, high temperatures and pressure.
There are many service providers, such as Surface Technology, who provide surface engineering and coating services that improve the functionality and performance of new equipment. However, there are few providers with our experience and capability to cost-effectively repair and refurbish offshore and subsea equipment.
So, what equipment can be repaired and refurbished? 
Using processes such as thermal spray, HVOF, SIFCO Process® and blast free media preparation techniques combined with surface re-coating, we give engineers ways to cost-effectively extend the service life of a wide range of equipment including:
Valves

Christmas Trees

Manifold Systems

Hydraulic Rams

Subsea/Marine Risers

BOPs

Wire Line Units

Gates and Seats

Reelers
Ensuring all services are provided by an oil and gas industry certified supplier is essential. Conducting additional testing such as; non-destructive testing and pressure testing where appropriate also helps to ensure your equipment is refurbished to the highest standards.
Our four sites in Scotland, in Leeds and Perth, Australia are all currently working on a number of projects for customers, such as Woodside Energy, to refurbish and extend the operating life of offshore equipment. Repairs can also be carried out in-situ without significant disassembly using the SIFCO Process®, our oil field equipment preservation service.
If you would like to find out how we can help you extend equipment service life through our repair and refurbishment services, visit our web page or contact us now.
Register below for our monthly email and stay up-to-date with the latest surface engineering white papers, case studies and innovation news.