Aircraft MRO: How engineers are innovating to deliver faster, more responsive and effective MRO services
The number of aircraft in service reached approximately 23,900 in 2015 but the demand is not expected to slow – Boeing and Airbus forecasts expect the number of in-service aircraft to double over the next 20 years.
The demand for aircraft maintenance, repair and overhaul (MRO) has never been greater but that demand also brings a host of challenges.
Innovation in aircraft engineering, manufacturing and MRO has added an extra 10 years onto the average lifespan of commercial aircraft – from around 15 years in the mid 1970s to 25 years in 2015.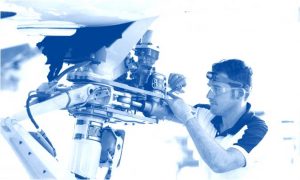 However, operating models continue to change and MRO is becoming increasingly time critical with both scheduled and non-scheduled line maintenance activities now treated more like F1 pit stops.
Capitalising on aircraft ground time to perform timely, safe and effective MRO is essential.
Fast, responsive and effective MRO
Meeting Return Overnight (RON) and Return Over Day (ROD) schedules requires fast, responsive and effective MRO.
One change that is occurring to deliver faster, more responsive and effective MRO is an innovation in hangar design – Air New Zealand's Hangar 3 in Auckland and Qantas' project at LAX are recent examples that have enabled more MRO services to be flexibly carried out in-situ.
The concept of carrying out more MRO in-situ is integral to minimising downtime. 
Aircraft MRO service providers are also increasingly adopting selective plating as a method to speed up processes; enabling corrosion protection, pre-braze, surface enhancement, refurbishment and anodising to be carried out in-situ.
For maintenance and repair to airframes, engines, electronic housings, landing gear, turbine blades, actuators, bearing journals, bushing bores, flap tracks, and axles, tank plating, thermal spray and selective plating all present viable options.
However, neither tank plating nor thermal spray is able to be performed in-situ and so offer significantly slower turnaround times to selective plating.
The precision and control afforded by selective plating also means thickness of the deposit can be controlled and so no post-plate machining is required, unlike thermal spray. 
Approved by the FAA, airlines, engine and landing leg manufacturers, selective plating is the optimum process for a long list of aircraft MRO applications.
Download SIFCO ASC's selective plating white paper to discover more about the science behind the process, its approvals and why it is being adopted worldwide as an essential tool for faster, more responsive and effective aircraft MRO services.
Register below for our monthly email and stay up-to-date with the latest surface engineering and coating white papers, case studies and innovation news.